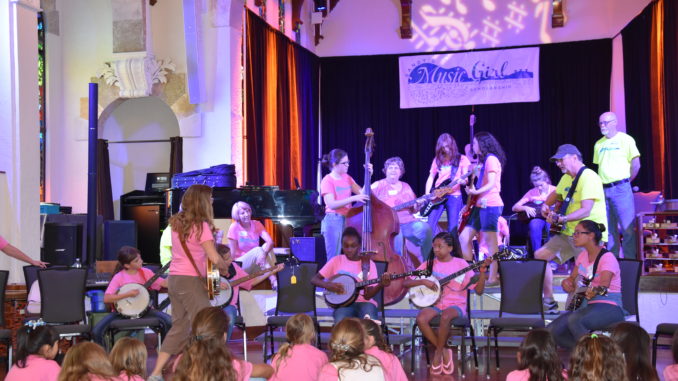 Music Girl Summer Camp is coming up fast! The camp planning team and I are really excited! We have an expanded schedule in the works, with Junior and regular MusicGirl camps spanning 5 days.
Junior MusicGirl Camp (ages 6 to 9) will be on June 11 & 12, and MusicGirl camp (for girls 10-19) will be on June 13-1. This year will be an evening Instructor & MusicGirl Concert that will be open to the public on Tuesday, June 12 at 7:00pm.
Classes available to Music Girls will be guitar, bass, banjo, ukulele, mandolin, dulcimer ,fiddle, piano and some group classes.
New this year, we will be introducing a class in pennywhistle, a traditional flute of the British Isles. We will provide the pennywhistles, and girls will be able to keep them.
This year, for guitar classes we will be using smaller, "girl-friendly" guitars. We will also have small-sized electric basses for the bass class. All these new developments are made possible by the generosity of our incredible MusicGirl supporters. Thank you!
We are also excited to announce an Advanced MusicGirl Track for girls who have become quite skilled in their playing. Girls who qualify will split their time between being assistants to instructors and performing in small groups.
The finale of camp will be showcases where girls who wish to can perform what they learned at camp. Family, friends and supporters are welcome to attend the showcases to be held on the last afternoon of camp.
We have an excellent all female line-up of instructors this year. We have recruited the best female musicians who are also good teachers that are local and throughout the state. These women are all excited to be a part of this experience for these girls and are role models as well as teachers.
MusicGirl Summer Camp is so much fun for the girls, and they learn a lot, too. (But honestly, I think the instructors enjoy it just as much; maybe even more!) The purpose is really to excite and inspire girls to continue to pursue music the rest of the year and for that matter, hopefully, for the rest of their lives. We hope these girls will enrich their lives and the lives of others with the magic of music. Sandy's MusicGirl Scholarship wants to continue supporting motivated girls on their musical journeys for years to come.
Stay tuned!
Steve Morrison